Maryland State Inspections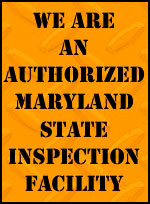 We specialize in auto repairs and are a Certified Vehicle Maryland State Inspection station. Our Maryland State Inspections include:

Car Inspections
Vehicle Inspections
Maryland State Vehicle Inspection
Maryland State Car Inspection
Auto Inspections
Auto Maintenance
Auto Service
Auto Repair
coupons
GET $20.00 OFF REPAIRS WITH YOUR FIRST VISIT TO MCGHEES AUTO SERVICE.
Testimonials
Anon

, 10/04/2021
Mr. Mcghee and staff were very cordial and responsive to all of my inquiries. I inquired about a MD State Inspection for my used SUV and he answered all of my questions respectfully and in detail. He mentioned that vehicles were serviced on a First come, First serve basis depending on how soon I could get my vehicle to their Waldorf location. The service men were cordial and asked if we had any further questions and provided us with a time frame for servicing our vehicle and called as stated when the SUV was ready. I was pleased with the service provided and the attentiveness to our vehicle needs; they even told a few jokes while we waited and provided information about what businesses were around that we could kill time in while we waited for our SUV to be inspected. Would refer this shop to others and may be back for other services necessary for the upkeep of my vehicle. Thank you.
view all reviews